Giambri's Quality Sweets was founded in 1942 by Vincenzo "James" Giambri. Born and raised in Italy, James immigrated to the United States in 1903. While his brothers became tailors, James decided to go into the candy industry in 1920 working for various Philadelphia candy makers. James then opened his own shop, building Giambri's on hard work and quality, crafting each piece of delicious candy by hand. From caramels and coconut to candy canes and chocolate straws, James's candy was an instant hit. The company was run with the help of his wife Mary and sister Jennie until 1971 when James retired at the age of 71.

The company was then handed down to his nephew Anthony Giambri, Sr., the second generation. Anthony relocated the company across the river and opened a small, temporary store front in Collingswood, New Jersey. In 1972, he purchased our current location in Clementon, NJ. Following in the family tradition, Anthony continued to make delicious, homemade candy with his wife Josephine and five sons, Anthony, Joe, Sal, Matt, and Dave (and even Uncle Jim on occasion!). After a fire in 1979, the Clementon factory was rebuilt, adding a second story to accommodate increasing production. Sadly, Jim and Anthony passed away in 1980, leaving Anthony's wife and five sons to run the business.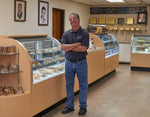 Today, Dave Giambri, the third generation, owns and operates Giambri's Quality Sweets with the help of his wife Patty and three children, Brielle, Sammi, and David, and a dedicated team. Dave's brothers, nephew Tom, and other family are always there to lend a hand when needed. In 2014, Giambri's was honored as the NJ Family Business of the Year, a testament to the legacy built by Uncle Jim and Anthony, Sr.!
We're a Proud Member of These Organizations:
Camden County Chamber of Commerce, Retail Confectioners Association of Philadelphia, Specialty Food Association
1903
Vincenzo "James" Giambri, our Uncle Jim, and his siblings arrive in New Orleans from Italy and make their way to Philadelphia. James is just 3 years old. 
1920 - 1941
Uncle Jim learns the craft of candy making, honing his skills at Philadelphia department stores and candy shops. His sister Jennie even picks up the trade for a time.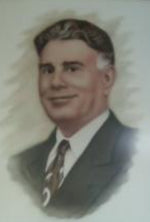 1942
Uncle Jim takes a gamble and leaves his job at the DeWitt Henry Candy Co., deciding to buy a vacant Philadelphia candy factory to start Giambri's Candies. His sweets are an instant success! It was a true family business from the start - his sister Jennie and nephew Anthony Giambri are among the first employees.   
1971
Anthony takes over the business from his retiring uncle and takes the operation to our current Clementon, NJ location, repurposing a former dress factory. James can't stay away though, and helps out regularly. Anthony puts his mark on the business, officially renaming it Giambri's Quality Sweets and expands to 3 more locations in Gloucester Township, Marlton, and Turnersville, NJ. 
1978
A fire devastates the Clementon factory, and Anthony is forced to make candy out of his home for a short time. Anthony; his five sons, Anthony Jr., Joe, Sal, Matt, and Dave; and wife, Josephine, rebuild the factory, this time tailoring it to their needs.
1980
Sadly, Uncle Jim and Anthony pass away just four days from each other, leaving the five Giambri boys and their mom, Josephine, to run the business. They would go on to make their dad and uncle proud!
1999
Giambri's introduced its line of gourmet Belgian chocolate specialties including chocolate covered pretzels and cookies. 
2014
We were honored as the NJ Family Business of the Year! 
Today
Our superior candy is still made with Jim's original recipes, and the best, freshest ingredients at our Clementon factory. Much of the equipment even remains the same. While we continually strive for innovation and development at Giambri's, a tradition of family and quality is what has led to our sweet success!