Giambri's is happy to partner with the best candy shops, bakeries, and specialty retailers in the US. Our customers strive to bring their patrons the highest quality, premium sweets on the market. If this sounds like your business, we'd love to work with you!
Why Partner with Giambri's?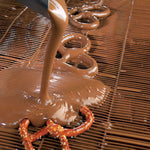 The Belgian Chocolate Covered Pretzel
Our Belgian chocolate covered pretzels have exploded in popularity and helped build our reputation. We're committed to delivering the best on the market, and we know fantastic chocolate covered pretzels start with great pretzels and delicious chocolate. That's why we use a flame-baked pretzel from our neighbors in Pennsylvania and Belgian chocolate made by master chocolatiers. This perfect base is then highlighted by a variety of toppings, from M&Ms and salted caramel rocks to sno caps and non-pareils!
Learn More
80 Years in the Candy Industry
In 1942, our Uncle Jim founded Giambri's Quality Sweets, prioritizing the quality and taste of his confections above all else. More than 80 years later, we're proud to continue our uncle's tradition of quality and crafting each piece of candy by hand. Our wholesale offerings include over 100 varieties of Belgian chocolate covered pretzels, grahams, and cookies; hard candy; bagged candy; Easter eggs; and more!
Email Us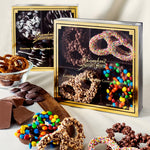 Tradition and Innovation
While many of our current recipes and processes originated with Uncle Jim, innovation is necessary in our commitment to quality and taste. Our state-of-the-art chocolate enrobers ensure a perfect chocolate temper, resulting in a shiny chocolate shell with the perfect snap on all of our pieces. Two factory expansions have also allowed us to increase our production to keep your shelves stocked!
Call us
So whether you need a tantalizing assortment of bulk, Belgian chocolate covered pretzels to fill your showcase; beautifully hand-packaged gift boxes ready to display on your shelves; or seasonal candies to fill your clients' gift baskets, we're confident you've come to the right place. We're happy to welcome you to the family and share our tradition of quality, handcrafted confections!
We invite you to take a look at our brochure for more information on our confections, along with frequently asked questions on the back cover. You can email us at info@giambris.com or give us a call at 856.783.1099 to talk about how we can help!
Who else is Enjoying Giambri's?
Tiffany & Co., Delta Airlines, Patrón, Hallmark, Detroit Pistons, Yankee Candle, Ben & Jerry's, and more!
Request Access to Wholesale Pricing
Please complete the application below, and we will email you if approved.
If approved, please Log in to your account for access.