Visit us at our Clementon, NJ retail store for a full selection of sweets! In addition to the items listed on our website, we offer a much larger selection in-store that's always changing! From chocolate by the piece to old-fashioned penny candies and unique assortments, you'll have fun browsing it all.

While we're open year round, Easter and Christmas are especially festive in the store! During the holidays our, offerings include pre-made gifts, truffles, dipped fresh fruits, chocolate barks, and more.
come see our full selection at the store!
Shop our handmade candy and let us help you in person!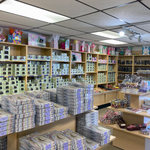 In-store exlusives include:
Easter - Fun basket additions and personalized Easter eggs
Valentine's Day - A large selection of hearts, ready to fill with your special someone's favorites, and chocolate dipped strawberries
St. Patrick's Day - Our famous Irish Potatoes
Christmas - Our individual candy canes, assorted trays, and stocking stuffers!
Our retail store hours are listed at the bottom of this page, under the "Retail Store Hours" heading. You can expect extended hours around Easter and Christmas, and reduced hours during the summer.